Neven JOVANOVIĆ (University of Zagreb)
A paper for the 15th Congress of the International Association for Neo-Latin Studies (IANLS), 05.-11. August 2012, session Digital Technology and Neo-Latin Research I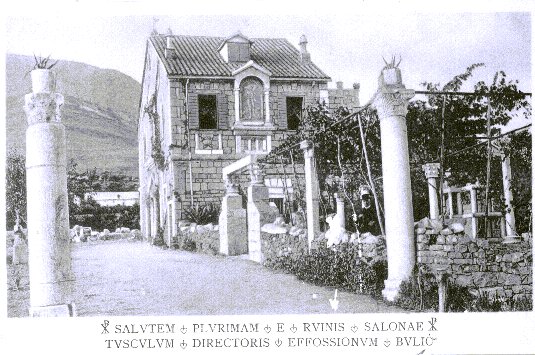 (Image courtesy of Archaeological Museum Split)
The text collection Croatiae auctores Latini (CroALa, first version 2009, http://www.ffzg.unizg.hr/klafil/croala/) publishes freely accessible, peer-reviewed editions of Latin texts, literary and otherwise, written by or about people of Croatian origin from the Middle Ages to the twentieth century. CroALa is of interest to scholars of Latin and Neo-Latin literature and language as well as of Croatian history and culture, but also to researchers from other disciplines and areas (history, art history, theology, even archaeology).
The texts, which are edited, if not critically, then at least according to good scholarly practices, have been enhanced by additional information (e.g. bibliographic data, genre, metre, structural divisions) and by full-text search capabilities.
In August 2012 CroALa comprised 276 documents by c. 131 authors, one special thematic sub-collection (the Laudationes urbium Dalmaticarum), as well as some secondary prosopographical and bibliographical data on Croatian Latin authors and texts.
Research possibilities will be demonstrated by four examples of what we can find in the collection.
Texts: 276

Authors: c. 131

Words: 4.685.419
Search for

all words ending in -ier

(excluding such as

mulier

etc). There are 542 occurrences, and all are in works of poetry… but

one

?
Hypothesis: infinitives in -ier occur only in poetry.
Hypothesis: words which are rare in our corpus of classical Latin are not necessarily rare in neo-Latin writing.
Corroboration: Helander 2004: 83 — neo-Latin authors of 16th century "used the word adorea without hesitation". Cf. adorea.* in CroALa (14 occurrences, all poetry).
Test: compare a list of rare classical words (our source: William Whitaker's WORDS list, where 7974 entries have been marked as "very rare" – "having only single citation in OLD or L+S"). Send the stems of such presumably rare words to CroALa. The process is necessarily automated: querying for ca. 7000 words, even when done with a script, takes about an hour.
(On Whitaker and his list, see here.)
Rough results: 2235 candidates found; here is a list of these "rare" words (or strings), with links to queries.
Hypothesis: the Danaides (or granddaughters of Belus) appear as part of a bigger poetic "underworld thematic cluster", together with Sisyphus, Ixion etc. Found material enables us to compare realizations of this cluster in CroALa, to research similarities and differences in Janus Pannonius, Karlo Pucić, Ilija Crijević, Jakov Bunić, Ludovik Paskalić (all Renaissance poets), Ignjat Đurđević (18th c.), Džono Rastić (19th c.).
During [the period 1620-1720] the motif [of the theatrum mundi] becomes… extremely frequent. (…) It has in fact been regarded as the most important metaphor of the 17th century

(Helander 2004: 422)
Searching for phrases separated by five words or less:
Hypothesis 1: the idea of theatrum mundi is not as important for Croatian neo-Latin literature (including its 17th century) as it is for Sweden.
Hypothesis 2: Croatian 17th century Latin texts are not well represented in CroALa.