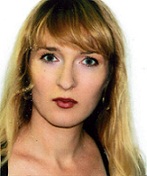 She obtained her B.A. in General Linguistics and Russian Language and Literature at the Faculty of Humanities and Social Sciences, University of Zagreb in 1999, with the B.A. thesis entitled Translation: a Linguistic Approach.
In June 1999, she received the Chancellor's Award for the paper Parallel Corpora and the Possibilities for Their Use. From May 1998 to May 2000, she participated in the project Computational Processing of the Croatian Language, Institute of Linguistics, Faculty of Humanities and Social Sciences, University of Zagreb, and since 1 June 2000, she has worked as a research assistant on this project. In May 2004, she obtained her M.A. in the area of computational linguistics.
Since 2002, she has taught different courses at the Department of Linguistics: Syntactic Description, Phonological Description, General Linguistics, Applied Linguistics, Translator and the Computer, and Ethics of Speech. She also participated in courses taught at the Department of Information Sciences.
She also participated in many international and local conferences and seminars. In February and March 2006, she was a visiting researcher at the Institute of Linguistic Research, Hungarian Academy of Sciences, Budapest, sponsored by the Hungarian Government.
In 2003/2004, she was the secretary of the Zagreb Linguistic Circle, and since 2006, she holds the position of the Higher Education Institutions' Information System (ISVU) coordinator at the Department of Linguistics.
On 1 December 2008, she defended her doctoral thesis entitled Evaluation of Machine Translation. From 2009-2012, she was a senior research assistant at, and since October 2012 she is a senior lecturer at Department of Linguistics.
She is a member of the Croatian Applied Linguistics Society, the Slovene Language Technologies Association and the Croatian Language Technologies Association.
Her scientific work is primarily focused on the application of computational technologies in linguistics, machine (aided) translation and pragmatics.