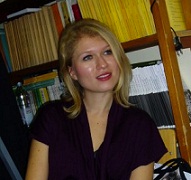 In 2008 she received her bachelor's degree in linguistics and comparative literature at the Faculty of Humanities and Social Sciences in Zagreb. In 2008/2009 she enrolled in the Postgraduate doctoral programme of Linguistics at the University of Zagreb and was employed as a research and teaching assistant at the Department of Linguistics, Faculty of Humanities and Social Sciences (project: Lexical Semantics in the Building of the Croatian WordNet). She was a collaborator on several international projects: CESAR (Central and South-East European Resources), Let's MT! CIP-ICT-PSP.2009.5.1 Multilingual Web:Machine translation for the multilingual web, NetWords (The European Network on Word Structure. Cross-disciplinary.approaches to understanding word structure in the languages of Europe, European Science Foundation Research Networking Programme) and EoSS (Evolution of Semantic Systems, in collaboration with the Max Planck Institute for Psycholinguistics in Nijmegen).
In 2015 she defended her doctoral dissertation titled Architecture of the lexicon in Construction Grammar – study of prepositions in Croatian and continued working at the Department of Linguistics as a postdoctoral researcher. In 2016 she received the title of research associate. She is teaching undergraduate BA and MA courses in semantics, cognitive linguistics, pragmatics and linguistic typology. In 2013 she was the secretary of the Zagreb Linguistic Circle, and in 2014 the organizer of the Zagreb Linguistic Circle, as well as the co-founder of LingChat, a discussion group for students and teachers of linguistics. She also continues to work on topics related to science communication and is the co-host of the forum Lingvistika s povodom organized by Matica hrvatska (along with Prof. Ida Raffaelli).
She received additional professional training at the University of Leipzig and the Max Planck Institute (Leipzig Summer School of Typology), University of Colorado, Boulder (Linguistic Society of America Summer Institute), University of Mainz, University of Copenhagen (short-term NetWords grant) and Princeton University. In 2014/2015 she was a Fulbright scholar at Princeton University, USA.
She participated in numerous international and domestic conferences, as well as organized several international conferences and workshops. She is a member of the Croatian Applied Linguistics Society and Croatian Philological Society.
Her main research interests are: cognitive linguistics, construction grammar, lexical typology and lexical semantics.